NEW PAJERO SPORT 2020 – RIDE NEW LIFE
With the message of "
Ride New Life –
Experience a different lifestyle
"
– the New
Mitsubishi
PAJERO SPORT
meets the expectations of customers about an SUV model that operates flexibly in different types of terrains but still offers optimal comfort, amenities and protection with a range of advanced safety technologies and outstanding intelligence in the segment. Now,
PAJERO SPORT
is an essential part of all your journeys or a variety of lifestyles experiencing process in your life. The car helps you try out a new experience as well as making your life original and complete.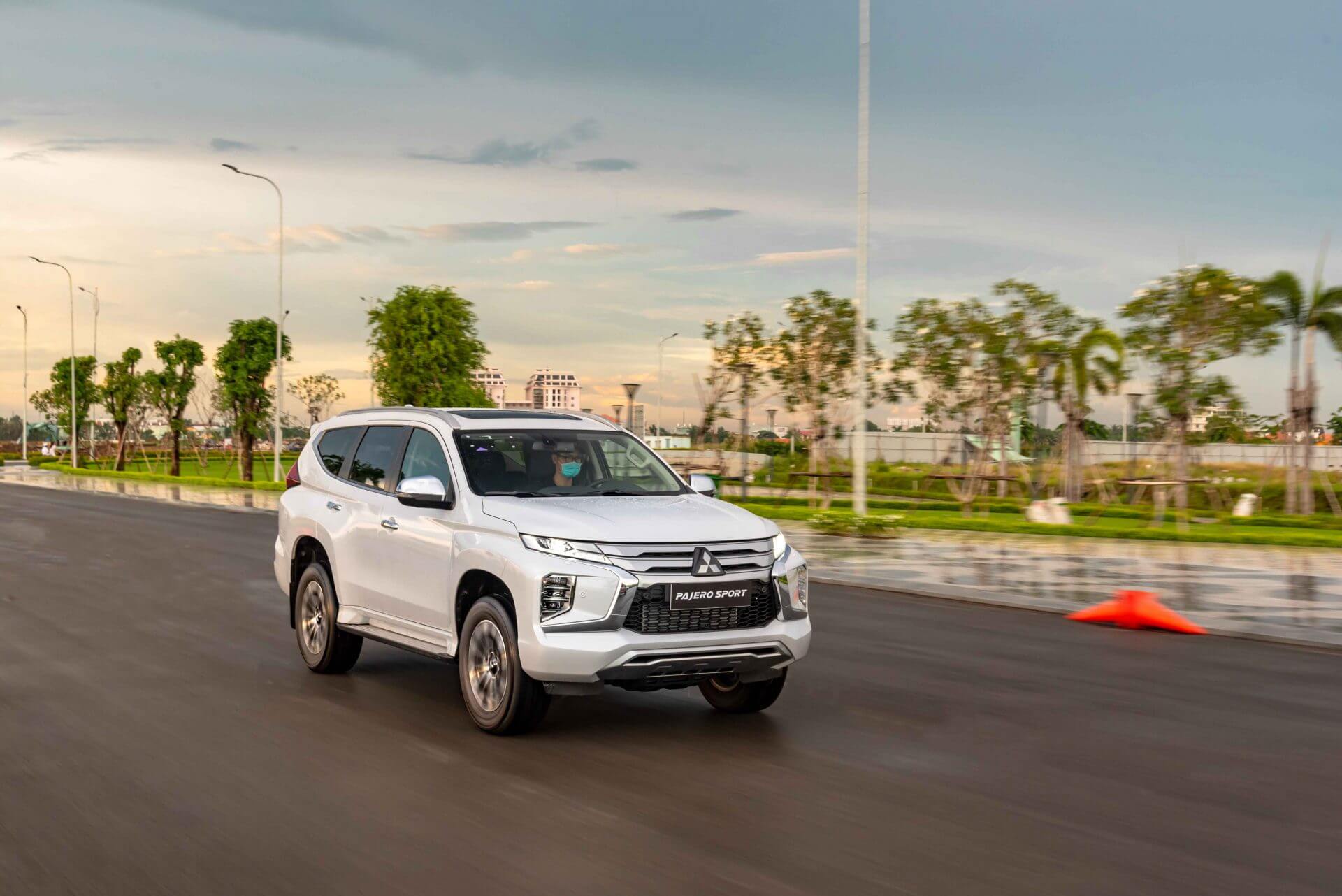 MODERN AND IMPRESSIVE DYNAMIC SHIELD DESIGN
With a new look created by the second generation Dynamic Shield design language, the exterior upgrades on the MITSUBISHI PAJERO SPORT has a harmonious and distinctive overall – a more elegant robust and impressive style.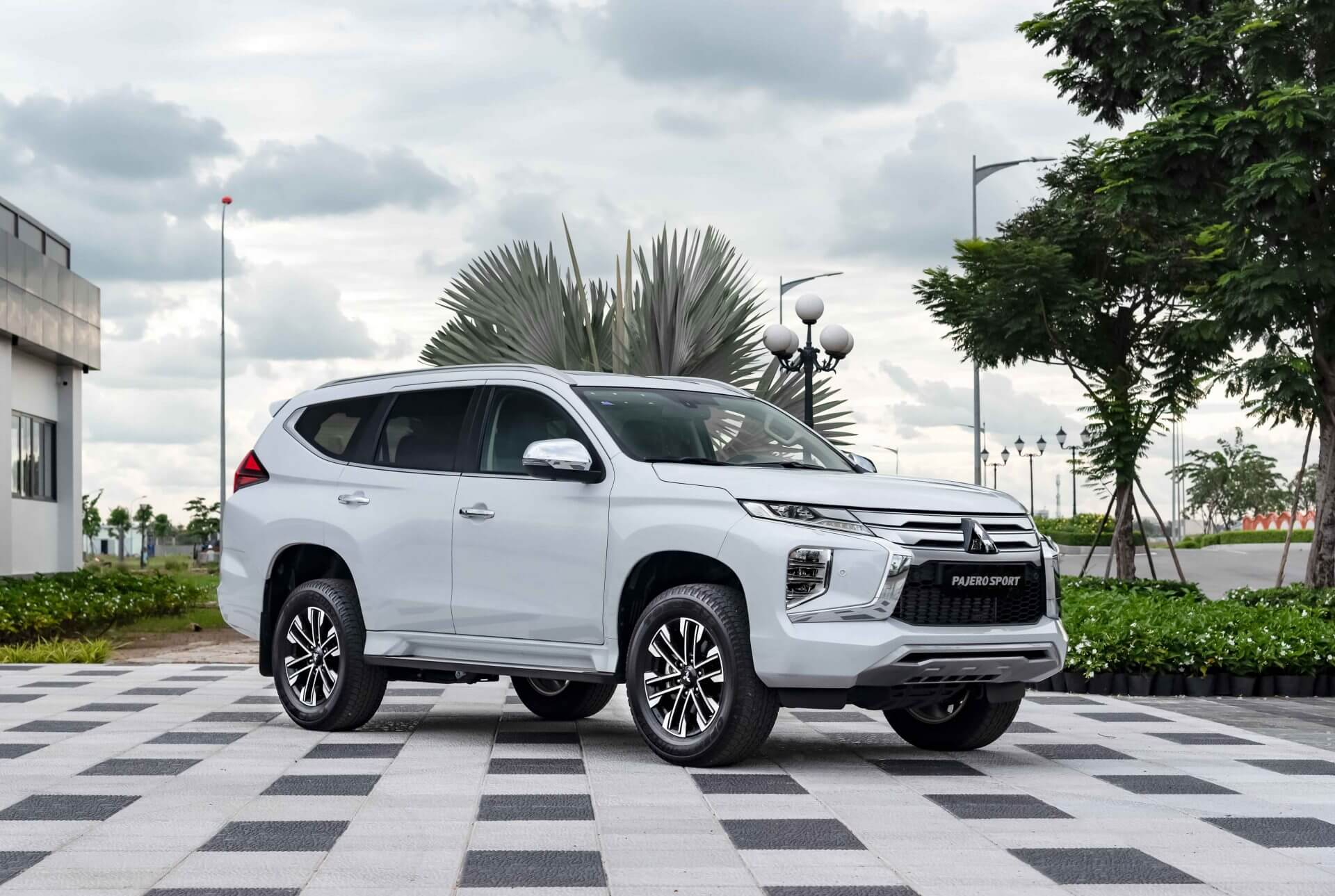 The new PAJERO SPORT is a bold and strong SUV with overall dimensions of 4,825 x 1,815 x 1,835 (mm). The wheelbase of up to 2,800mm provides a spacious space for all 3 rows of seats, the new 18-inch 2-tone multi-spoke alloy wheel offers a strong and sporty feel.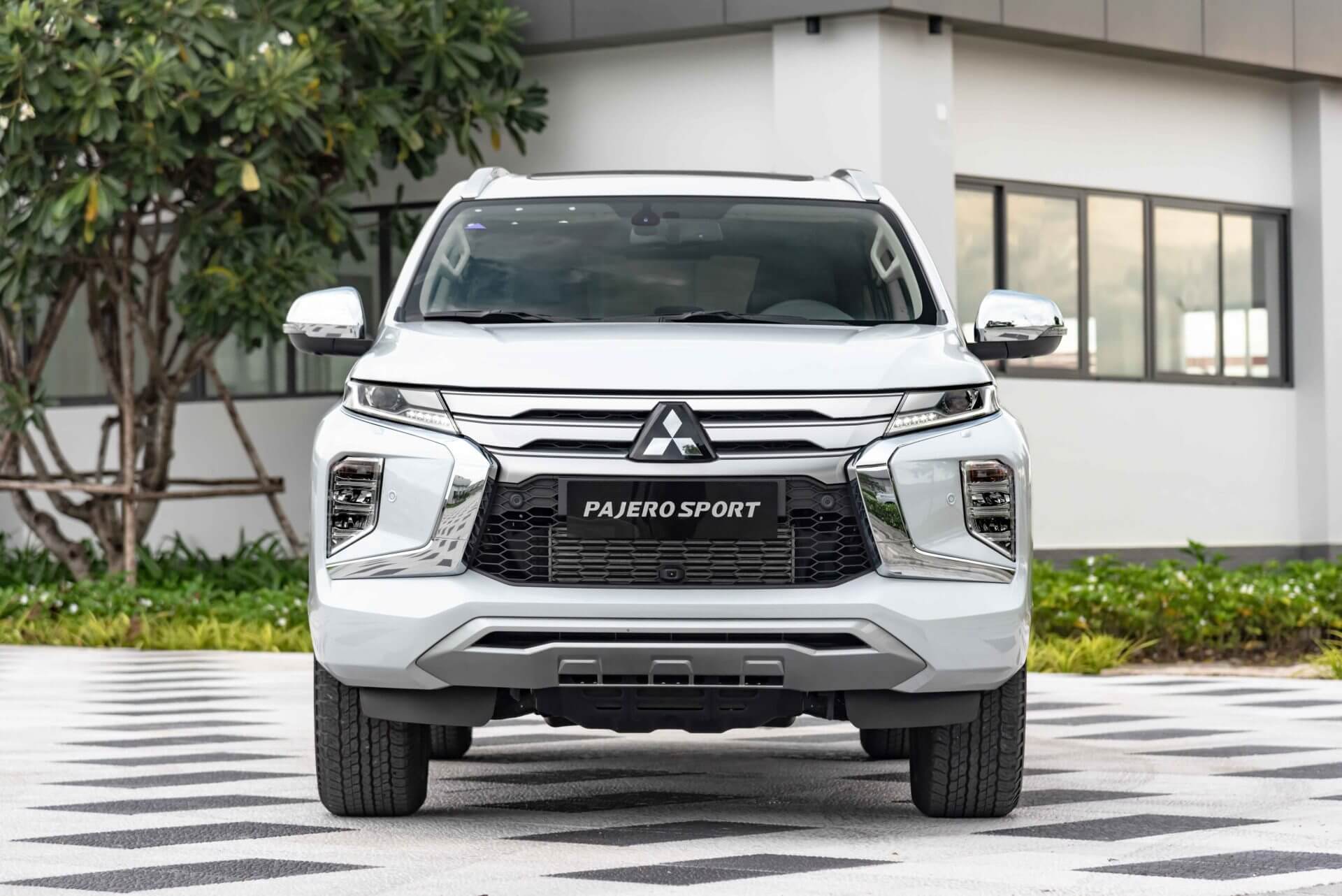 The front part of the car stands out with the X-shaped grille, LED daylights running and the front headlamps connected by silver-plated bars on top, which increase the toughness and masculinity for PAJERO SPORT. The new design of the front grille with 3 high-intensive silver-plated horizontal bars adds a strong, sporty look. In particular, the new PAJERO SPORTis equipped with modern Bi-LED headlamps to increase lighting efficiency and aesthetics, while integrating corneringlamps technology to better assist when cornering.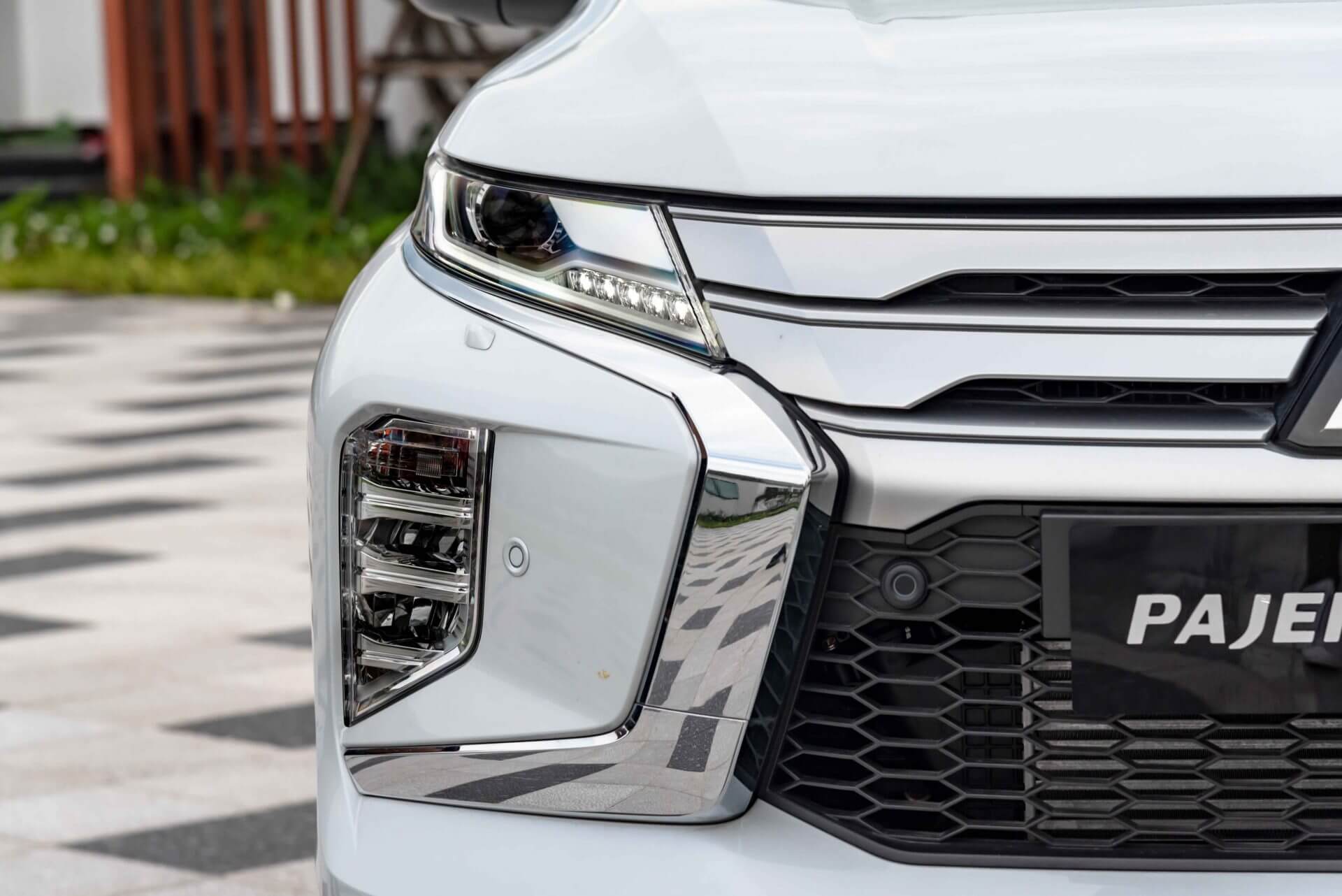 The Headlamp washer system equipped on PAJERO SPORT removes dirt and dust on the lights, thereby maintaining maximum lighting competence, giving the driver the best vision and ensuring safety.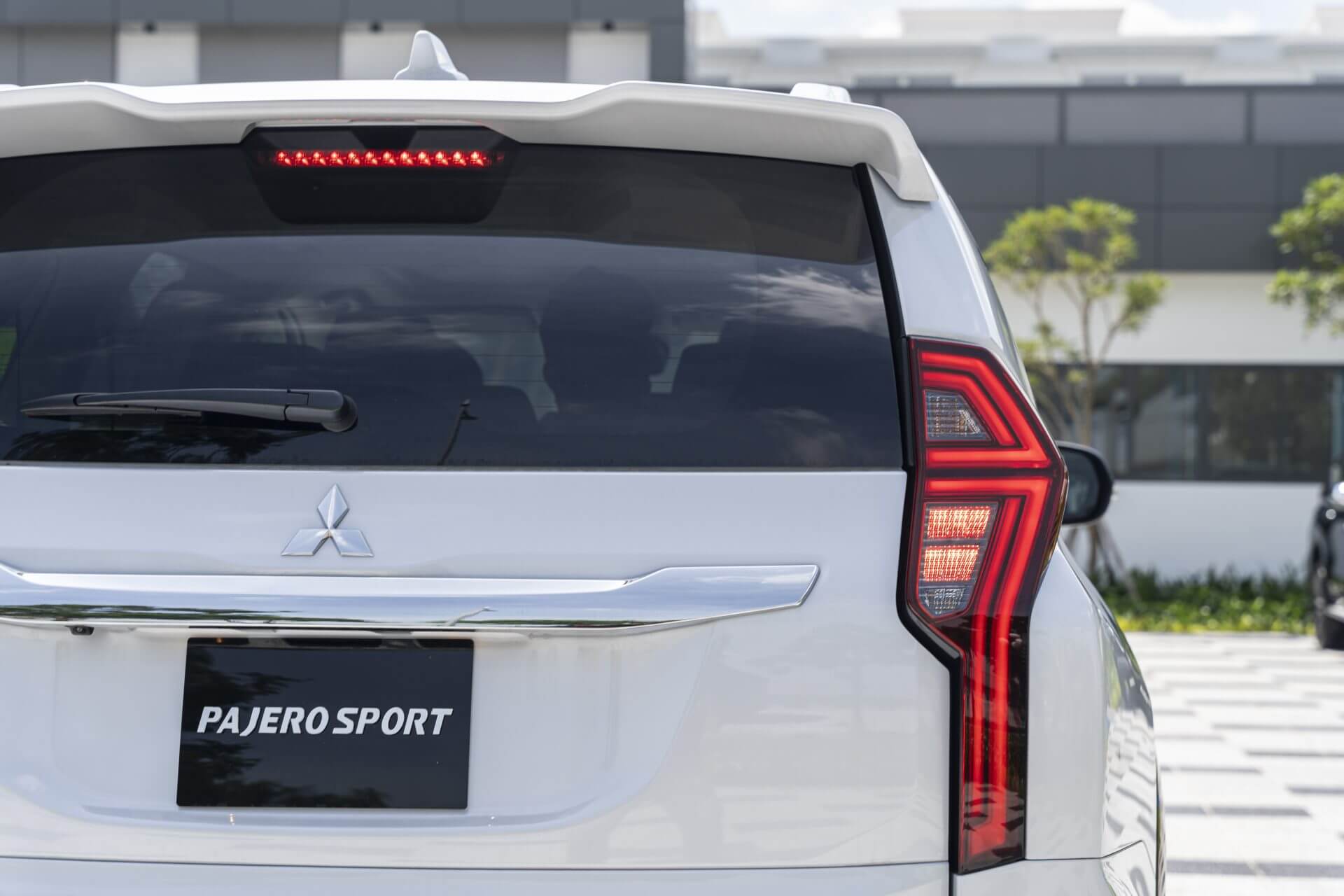 The new beautiful design of the taillights, integrated with LED technology increases the appeal and identity of the PAJERO SPORT. Specially, the new PAJERO SPORT is equipped with a modern Sharkfin antenna and a newly designed sporty rear spoiler, which bring harmony and modernity.
The sturdy suspension system incorporates a high ground clearance of 218mm, allowing the car to easily cross difficult terrains. Meanwhile, the minimum turning radius of 5.6m, the smallest in the segment is also a significant advantage, which helps the car to be more flexible when moving in the narrow urban areas.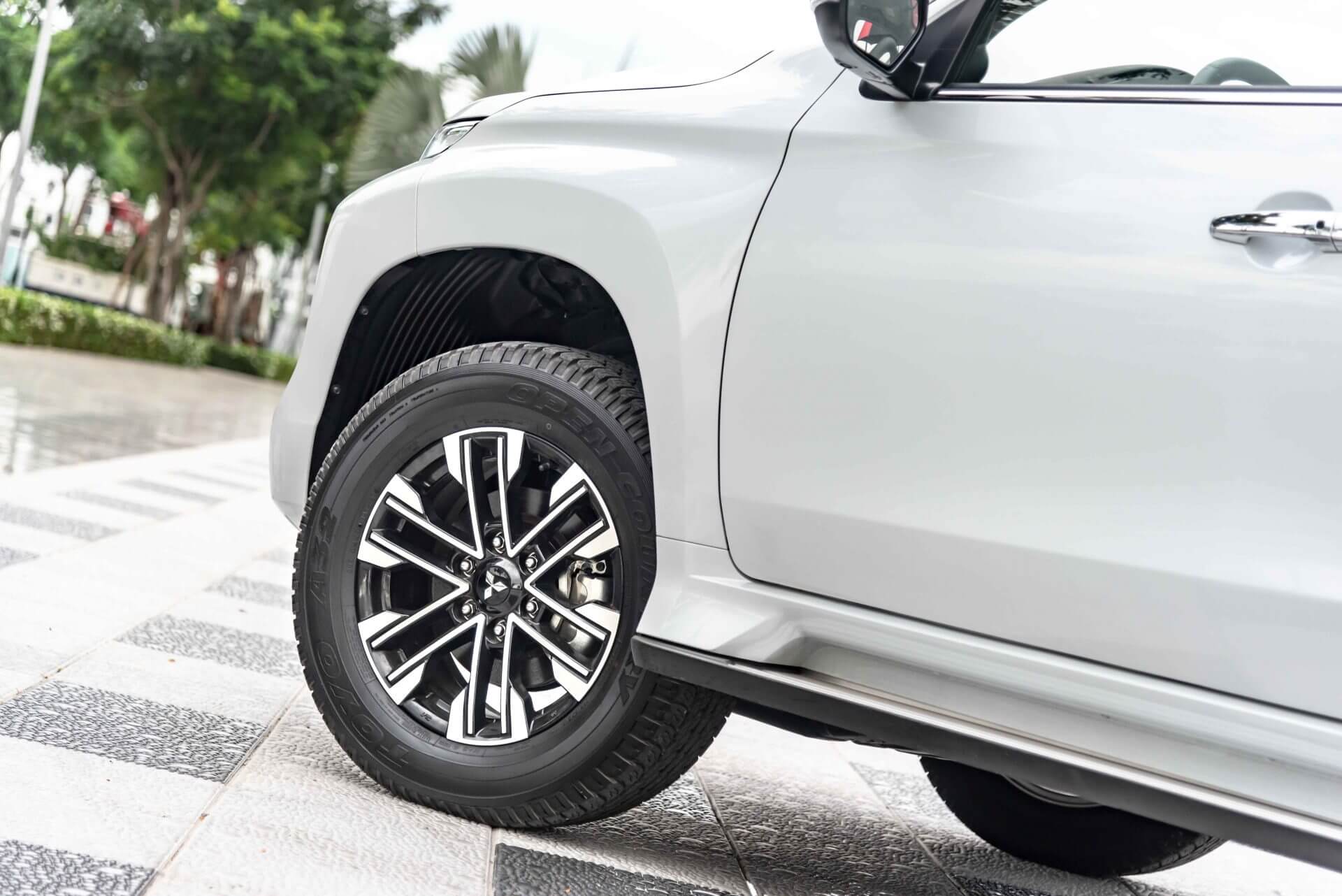 FLEXIBLE AND POWERFUL OPERATION WITH "MITSUBISHI-

DNA

"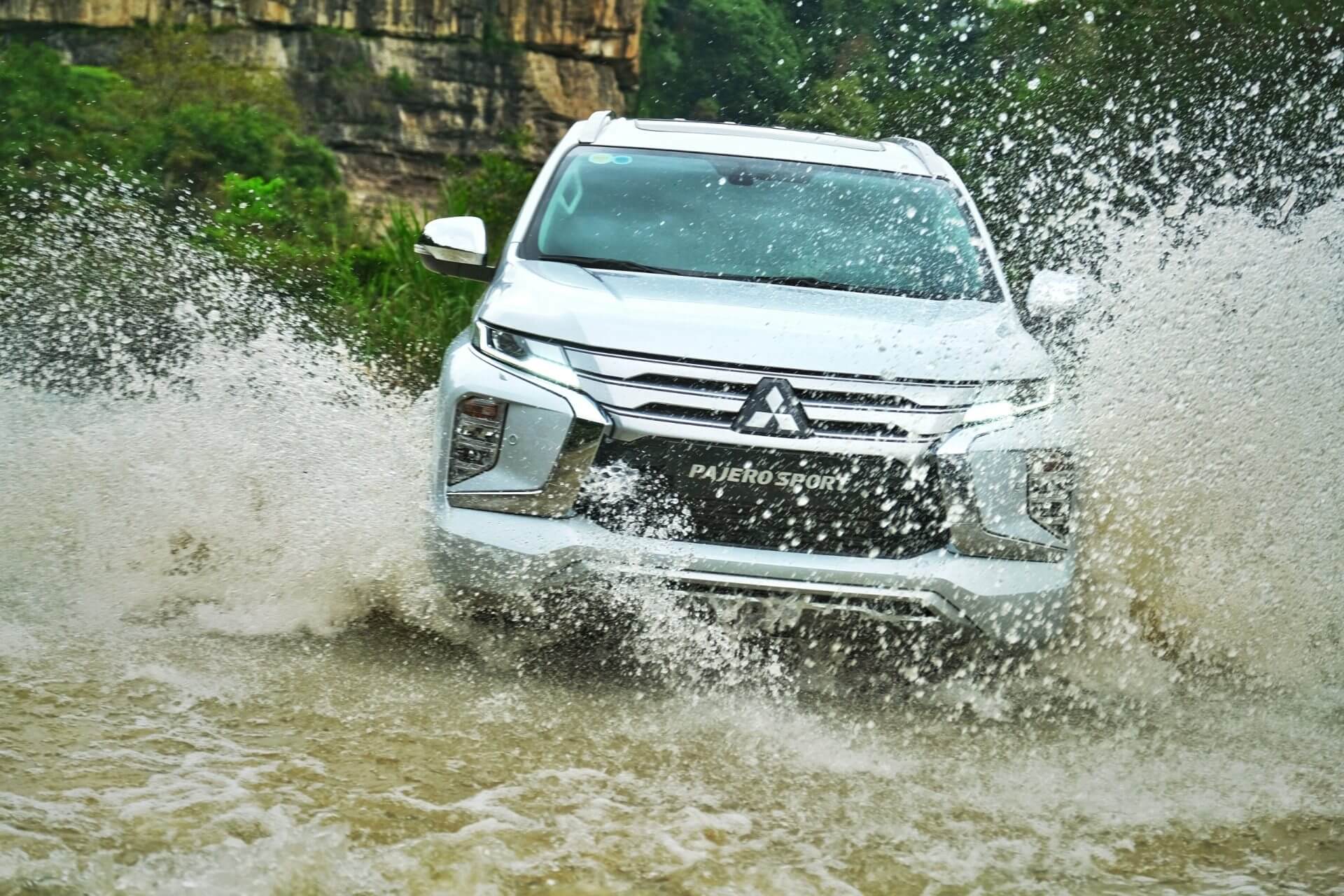 The strong performance is always one of the outstanding advantages when it comes to the PAJERO SPORT, which carries the "SUV genome code", also known as "Mitsubishi-DNA", which has been proven through the toughest Dakar Rally races on planet.
The NEW PAJERO SPORT utilizes an engine block with Valve timing Electronic Control system technology to achieve 133kW (181PS) capacity at 3,500rpm and a maximum torque of 430Nm at 2,500rpm. In particular, the engine block is cast in aluminum alloy to help optimize the weight, contributing to the proper weight distribution between the front and rear axle, thus helping the car operate more stability. In addition, the low compression ratio of the engine also helps to minimize vibrations for smooth operation.
DIESEL MIVEC 2.4L engine is even more superior thanks to the combination with an 8-speeds Automatic Transmission with sport mode. The wide range of gear ratios makes the gear shift smoother. At the same time, the PAJERO SPORT 2020 also helps the driver thrilled and excited thanks to the integrated paddle shift on the steering wheel, which helps mastering the process, especially suitable when you need to speed up, pass or when traveling on a steep road.
The MITSUBISHI PAJERO SPORT 2020 is equipped with Mitsubishi's DNA Super Select 4WD-II drive system. Unlike the intermittent 4WD system currently available on several other SUVs, the driver can only use the 4WD mode in difficult road conditions due to a slippage of the wheels when steering because the deviation between the front and rear axleis not suppressed, which causes difficulty in steering and the driver's discomfort. Super Select 4WD-II does such a good job not only in tough road conditions. The system also provides smooth and safe driving thanks to the equipped center differential that eliminates speed deviation between the front and rear axle. With 4 modes 2H-4H-4HLc-4LLc, the Super Select 4WD-II system helps to provide a variety of handling capabilities, making the PAJERO SPORT both economical in operation with 2H mode. Meanwhile, the car can operate safely and flexibly on slippery conditions like an All-wheel Drive (AWD) model thanks to the 4H mode center differential but at the same time confidently conquer complex terrain conditions, offroad with 4HLc mode (4WD High-speed Range with locked centre differential) or 4LLc (4WD Low-speed Range with locked centre differential).
In addition, the PAJERO SPORT 2020 also gives the driver 4 additional terrain modes (Gravel – Mud – Sand – Rock) with easy one button operation. This brings out outstanding off-road driving experience.
Specifically, the MITSUBISHI PAJERO SPORT 2020 is also furnished with the Rear Differential Lock – R/D Lock with the "ON/OFF stage" button located in the center console. This upgrade makes it easier for the car to overcome various difficult terrains by locking rear differentials and evenly distributing the force to the rear wheels.
FACILI

TIES UPGRADE FOR ALL-PASSENGERS

LUXURIOUS EXPERIENCE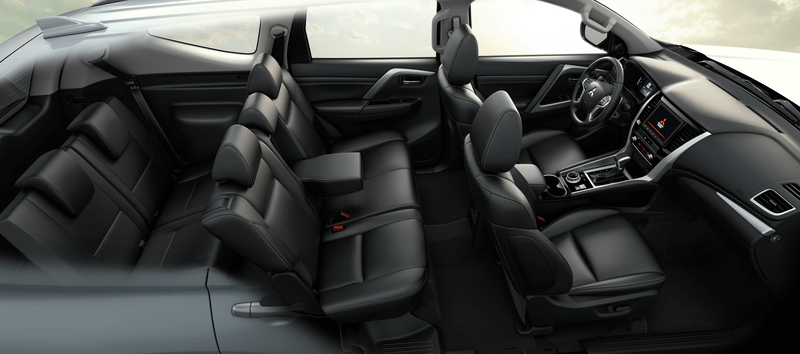 The customer-centric 'Omotenashi' philosophy is applied by Mitsubishi Motors in the interior design of PAJERO SPORT 2020. With advanced, smart utilities, the car delivers the most superior and comfortable experiences to customers. The cockpit is impressive with cutting-edge modern technology. The PAJERO SPORT interior is luxurious but no less refined, elegant and harmonious:
•
High-quality leather interior, 8- way
s
power driver and passenger seats help reduce fatigue during long trips.
•
D
igital
meter cluster
equipped on
PAJERO SPORT
2020 has a large size of up to 8 inches with
3
display
types
, not only helps the driver to easily observe the information but also allows to customize the different display types according to the needs and preferences of the driver.
•
8-inch
smartlink
touchscreen with friendly interface and the ability to connect to different protocols such as: Android Auto™ and Apple CarPlay™ for unlimited entertainment. In addition, this screen can also connect and display information to the digital
meter cluster
so that the driver can observe the information easily, increasing the ability to focus while driving. In addition, as the steering wheel is intergrated with multi-information control buttons, such as Audio Switch or Handfree switch & Voice Control, drivers can easily listen to music and more while driving.
•
Dual zone Auto Air Conditioner system, with
rear ventilation
for
second
and third rows, suitable for the climatic conditions of Vietnam. Moreover, the car is also equipped with Nano-e Ion generator with air cleaning function that helps bring fresh air to everyone during the journey.
•
Automatic
dimming
rearview mirrors, which help to limit the reflected light from the door mirrors to the driver, preventing glare caused by the rear headlights. Modern sunroof brings exciting experiences with beautiful nature throughout the journey, especially when traveling with the whole family.
•
Multi Around System
camera
, helps the drivers to easily observe in reverse, stop and park or move on crowded urban roads situations.
•
The philosophy of 'Omotenashi' can also be easily seen on the
PAJERO SPORT
2020 through the Electric Tailgate & Kick motion. In particular, unlike other models, which only equipped with a kick motion sensor located in the middle of the rear bumper that could cause a bit of trouble in the manipulation of the trunk,
PAJERO SPORT
2020 is equipped with 2 sensors of the t
ailgate
at 2 corners of the rear bumper. The setup makes kick motion easier and more convenient.
•
Furthermore, the
MITSUBISHI PAJERO SPORT
2020 also provides high accessibility and class to customers when it is first equipped with a MITSUBISHI Remote Control via smartphone, which can be operated on both Android™ and iOS™ and even Apple Watch™. The application helps users to find the car's location in the parking lot, open the
tailgate
from a distance easily or set the
tailgate
opening status so that opening the t
ailgate
is so convenient that there is no need for kick motion. In addition, it can also display fuel-
economy
information, fuel volume or vehicle status reminders, such as the driver forgets to lock the door or the window glass is not closed.
•
Especially, the
MITSUBISHI PAJERO SPORT 2020
is integrated with Electric parking brake + Auto Hold, helping the driver to be more relaxed during operation. Other amenities such as the Engine Start/Stop Switch, Auto lighting Controls,
A
uto rain-wiper, Headlamp
auto
leveling … contribute to the a convenient and classy experience for customers.
PREMIUM SAFETY WITH INTELLIGENT ADVANCED SAFETY SYSTEM – SECURITY ON EVERY TRIP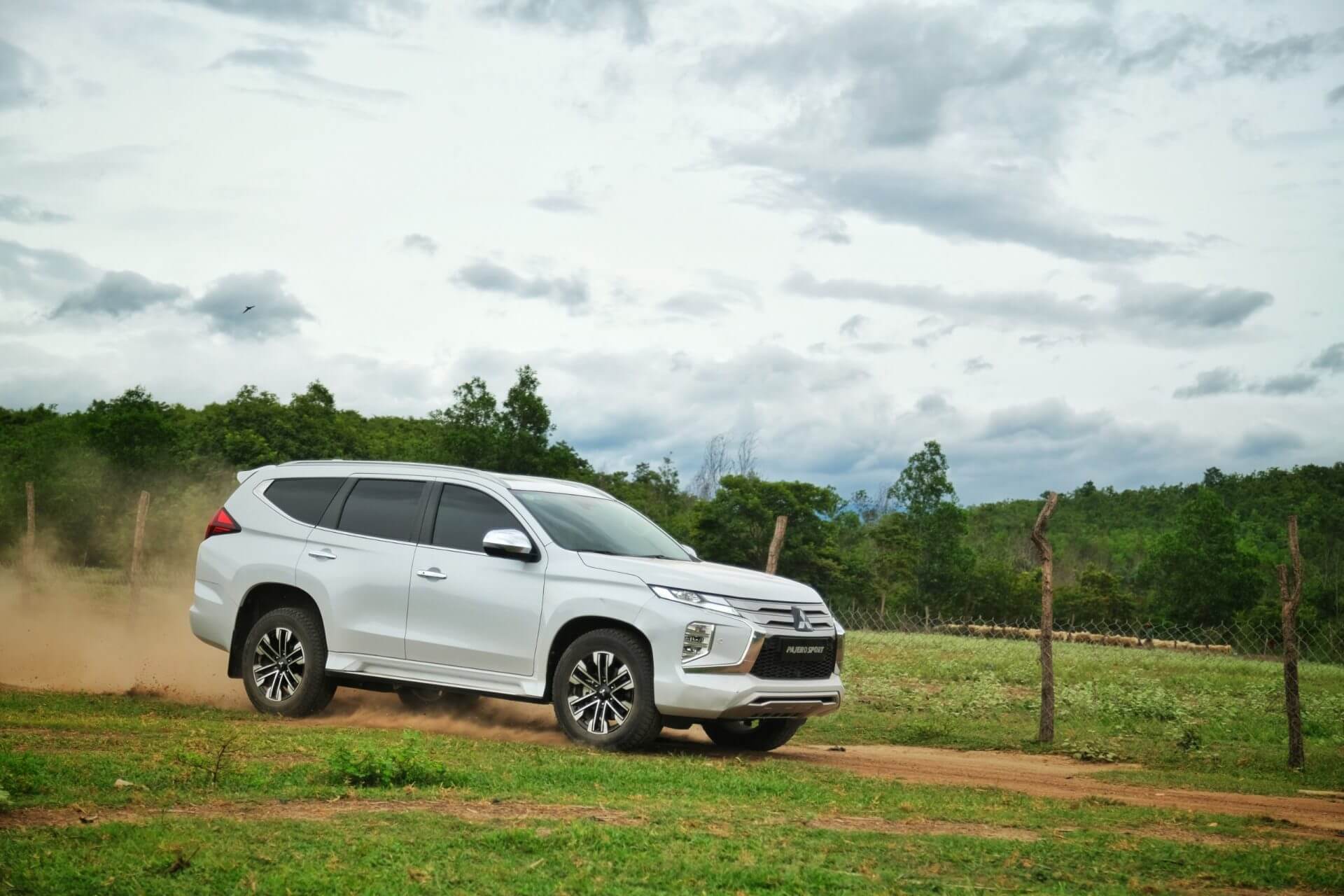 Positioned as a premium SUV, the MITSUBISHI PAJERO SPORT 2020 offers a complete protection for customers, thanks to the advance safety with advanced safety package:
•
Forward Collision Mitigation System (FCM) helps to reduce the severity and minimize the possibility of a forward collision.
•
Blind Spot Warning (BSW) and Lane Change Assist (LCA) detect a vehicle in the blind spot, warn on the rearview mirror and assist the driver to change lanes safely.
•
The Rear Cross Traffic Alert (RCTA) system improves obstacle detection and minimizes blind spots and the risk of a collision when reversing.
•
Ultrasonic misacceleration Mitigation System (UMS): Plays a warning sound while reducing engine power to minimize the risk of a collision when detecting an obstacle
front and rear
.
•
Apdaptive Cruise Control System (ACC): The system uses radar to detect vehicles ahead and maintain a consistent vehicle speed.
•
Brake Override System: the system automatically disconnects the gas pedal, prioritizes the brake pedal to stop the vehicle and ensures safety.
•
Rear View System: Plays an audio signal when there is an obstacle. This helps users actively observe the situation behind to control the car in the most reasonable way. Provides safety protection and avoids unnecessary risks and damage in the reverse process.
•
Front and Back warning sensors: Helps the driver to clearly see blind spots that cannot be observed through the rearview mirror, minimizing collision situations and unfortunate accidents.
•
High-
intensive
steel RISE chassis ensures the ability to absorb impact energy from all directions and disperse impact force, ensuring safety for all passengers.
•
Anti-lock Braking System (ABS), Electronic Brake-force Distribution (EBD), Emergency Brake Assist (BA), Active Stability and Traction Control (ASTC).
•
Hill Descent Control (HDC) and Hill Start Assist (HSA) functions help the driver easily control the vehicle's operation in all-terrain conditions.
By equipping the intelligent advanced safety package, the MITSUBISHI PAJERO SPORT 2020 can now be considered as a "tough bodyguard" to help ensure the safety of all passengers and secure peaceful and relaxed journeys.
NEW

MITSUBISHI PAJERO SPORT – "RIDE NEW LIFE" – LUXURIOUS, SUPERIOR SUV, IDEAL CHOICE FOR INDIVIDUALS AND FAMILIES.
Comes with valuable exterior upgrades, outstanding comfort, an intelligent active safety system, and powerful performance, the MITSUBISHI PAJERO SPORT is a multitasking vehicle, a close companion in every journey of your life.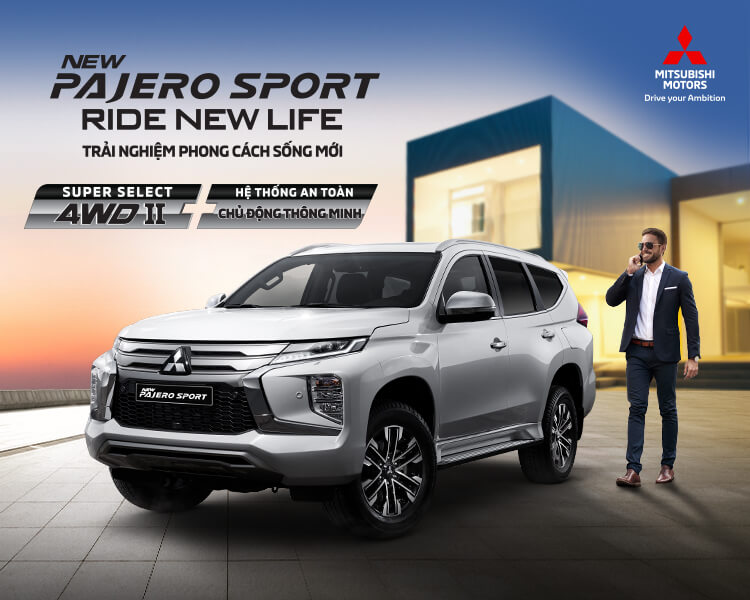 Are you a successful person with the spirit of devoting all of your energy to your work to achieve great achievements? Are you a wonderful father who wants to take your family to a distant place to camp and enjoy the natural beauty? Are you a creative artist or social work enthusiast? Are you an adventurous person, who enjoys exploring with friends? This powerful, versatile, safe and comfortable SUV is all you need. With MITSUBISHI PAJERO SPORT, all diverse aspects of your life will always be accompanied and conquered in the fullest way.
The new MITSUBISHI PAJERO SPORT is launched on October 6, 2020 with 02 versions in 3 color options: black, white and brown with the listed price information as follows:
Especially, first phase orders will come with a gift set of up to VND 50,000,000 including sports accessories and an IPhone 11 Pro Max 64Gb.
What Would You Like To Do Next?
You can explore more information from menu as below or please consult your local Mitsubishi Motors dealers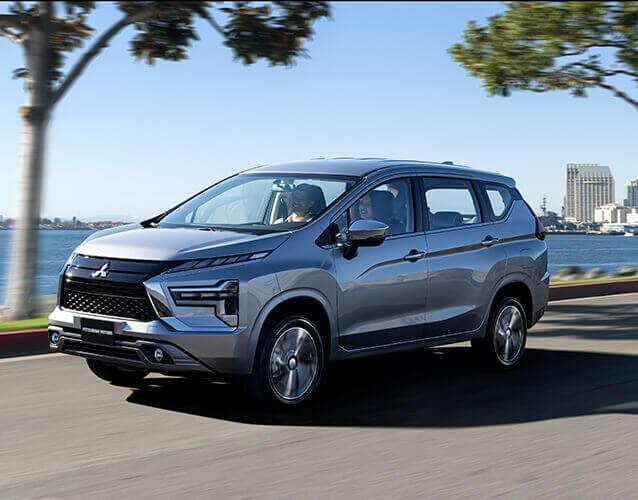 Trải nghiệm
Xpander
ngay hôm nay!
Vui lòng để lại thông tin, chúng tôi sẽ liên hệ ngay với bạn
Cảm ơn Quý khách đã gửi yêu cầu lái thử xe, nhà phân phối Mitsubishi sẽ liên lạc với quý khách trong thời gian sớm nhất. Nếu quý khách có yêu cầu hoặc thắc mắc gì khác, vui lòng gọi điện đến số CSKH: 1800.1514 (giờ hành chính) hoặc gửi email đến cskh@mitsubishi-motors.com.vn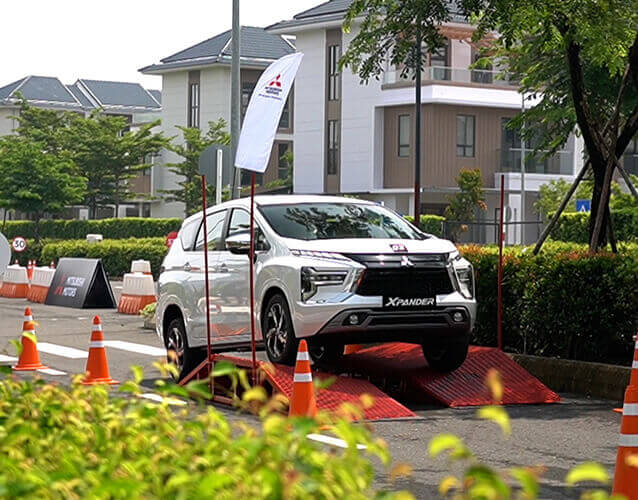 Trải nghiệm
Xpander
ngay hôm nay!
Vui lòng để lại thông tin, chúng tôi sẽ liên hệ ngay với bạn
Cảm ơn Quý khách đã gửi yêu cầu lái thử xe, nhà phân phối Mitsubishi sẽ liên lạc với quý khách trong thời gian sớm nhất. Nếu quý khách có yêu cầu hoặc thắc mắc gì khác, vui lòng gọi điện đến số CSKH: 1800.1514 (giờ hành chính) hoặc gửi email đến cskh@mitsubishi-motors.com.vn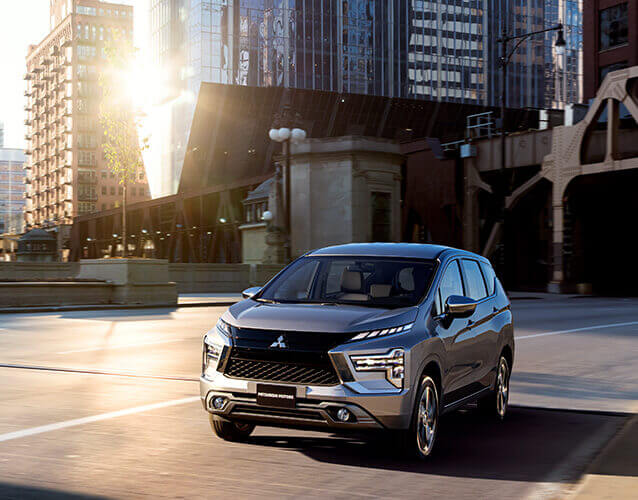 Trải nghiệm
Xpander
ngay hôm nay!
Vui lòng để lại thông tin, chúng tôi sẽ liên hệ ngay với bạn
Cảm ơn Quý khách đã gửi yêu cầu lái thử xe, nhà phân phối Mitsubishi sẽ liên lạc với quý khách trong thời gian sớm nhất. Nếu quý khách có yêu cầu hoặc thắc mắc gì khác, vui lòng gọi điện đến số CSKH: 1800.1514 (giờ hành chính) hoặc gửi email đến cskh@mitsubishi-motors.com.vn